EXECUTIVE SUMMARY
Matthews™ Healthcare Division is pleased to offer qualified investors the opportunity to acquire a trophy healthcare asset tenanted by

UCLA Health. This newly renovated state-of-the-art facility has been chosen by UCLA as a flagship cancer treatment center and features a brand new 10-year NNN lease guaranteed by The Regents of The University of California. The lease guarantor holds spectacular credit ratings of AA and Aa2, by Fitch and Moody's.
UCLA Health is ranked the #1 Health System in California, with over 250 locations across Southern California. With hundreds of UCLA physicians listed among the Best Doctors in America and one of the top-rated cancer centers in the United States, this tenant is among the most comprehensive and advanced healthcare providers in the world.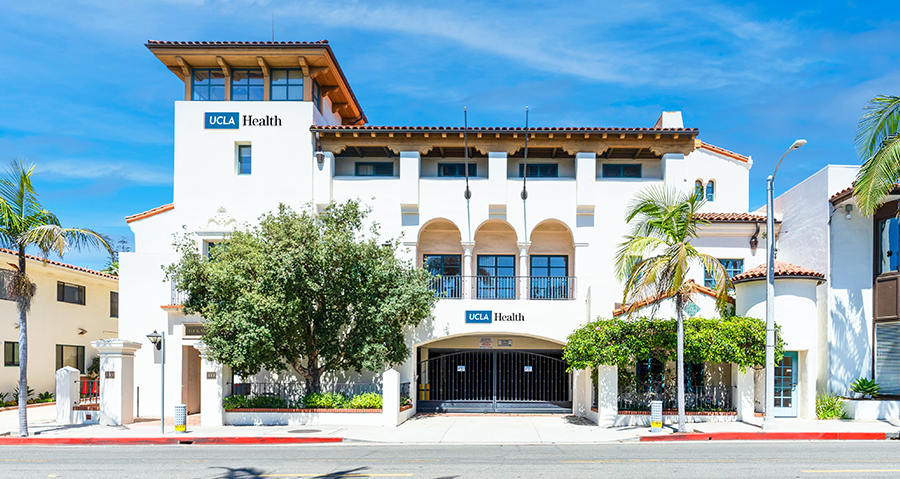 ADDRESS
111 E Victoria St, Santa Barbara, CA





"AA" INVESTMENT GRADE CREDIT TENANT -

The Regents of The University of California holds spectacular credit ratings of AA

and Aa2, by Fitch and Moody's. This credit rating is superior to some of the largest

companies in the world, such as Amazon (AA-), JP Morgan & Co., (AA-), Wells Fargo

(A+), Bank of America (AA-), TD Bank (AA-), Walgreens (BBB-), Tesla (BB+), and is

similar to Alphabet (Google's parent company) AA rating.



STNL OPPORTUNITY - HEART OF DOWNTOWN SANTA BARBARA -

UCLA has chosen this location as a strategic entry point into downtown Santa

Barbara, one of the country's premier beachside communities. This site will serve as

a flagship cancer treatment center for Santa Barbara and neighboring communities.



PASSIVE NNN LEASE STRUCTURE -

UCLA executed a long-term NNN lease, providing passive cash flow and wealth

security for both local and out-of-state investors. Lease features additional income

from management fees and parking.



EXTENSIVELY RENOVATED STATE-OF-THE-ART BUILDING -

Current renovations include $8.9 million for interior improvements to the property.

Most of the renovation budget is being paid by UCLA, showing their strong

commitment to the location.
RECESSION-PROOF OPERATOR & INVESTMENT -

UCLA Health and the healthcare industry as a whole, fared exceptionally

well through 2008 and 2020. Healthcare tenants are "sticky" operators




due to higher than typical build-out costs compared to other tenants.



PROPERTY TAX EXEMPTION -

Any property leased by the University can be exempt from property taxation,

according to the California Revenue Taxation Code, sections 202(a)(3) and

202.2 (leased property) – which should further support UCLA's long-term

occupancy as a tenant. Confirm with your CPA.



LOW VACANCY RENTAL MARKET -

The Santa Barbara medical office market boasts a low vacancy rate of 5.69%

and 4.44% in the Downtown Submarket. The vacancy rate has decreased

year over year falling from 6.80% in Q1 of 2022.



SANTA BARBARA MEDICAL OFFICE MARKET -

The Santa Barbara medical office market has strong fundamentals. There are

currently 179 existing buildings with no new buildings under construction.




There has been a 2% increase in net absorption over the past 12 months.
TROPHY SANTA BARBARA LOCATION - The building is located steps from State Street - the heart of Downtown Santa Barbara. Well located near national retailers like Amazon, Apple, Lululemon, and Whole Foods. Within a short drive to the Ocean, Stearns Wharf, The Funk Zone and the Haley Corridor housing some of the area's best wineries, breweries, shops and art galleries.
TOP TOURIST DESTINATION - Set on the American Riviera, along one of Southern California's most beautiful and exclusive coastlines, Santa Barbara is located just 80 miles north of Los Angeles, attracting over 7.2M visitors annually. Attractions include the SB Zoo, the harbor, the pier, high-end boutique shopping, a variety of eateries, and exciting local nightlife.
HIGH BARRIERS TO ENTRY - The Santa Barbara trade area is in high demand due to zero availability of developable land which has created a high barrier to entry.
SYNERGISTIC LOCATION - Property is located near national retailers like Amazon, Apple, Starbucks, CVS, Whole Foods, as well as just 1.5 miles away from the Ocean and the popular Stearns Wharf. The site's proximity to attractive and high-demand locations highlights its desirability.
NEW DEVELOPMENTS UNDERWAY - Several projects are planned in the immediate area:


UCSB Campus: $104M development to be used by UCSB

Housing/Mixed-Use Development: 155 residential units 1 mile from




subject property.

Hotel Virginia Remodel: recently acquired by Pacifica Hotels, this hotel will undergo an extensive remodel and rebrand.

EXCEPTIONALLY AFFLUENT AND DENSE DEMOGRAPHICS - Located in the heart of Downtown Santa Barbara, with a 5-mile population radius of over 116,000 people with average incomes within a 2-mile radius of $115,663, well above the national average. Average incomes within a 2-mile radius are well above the national average at $115,663.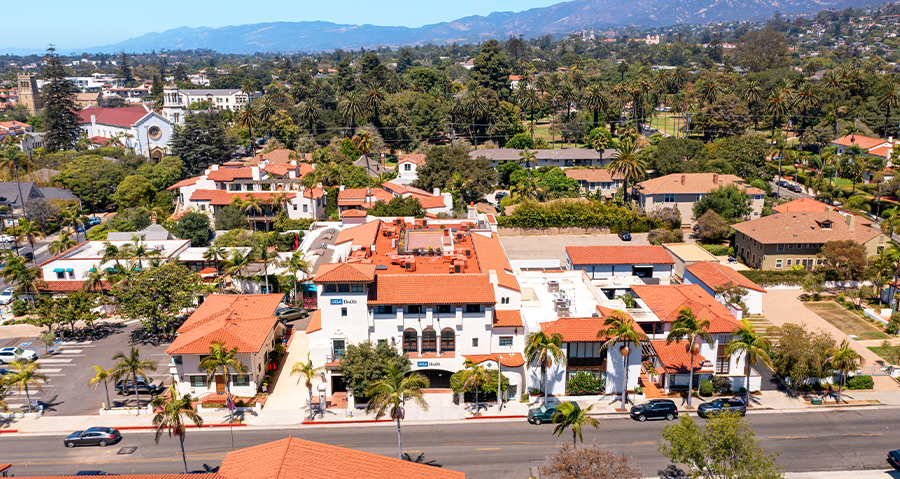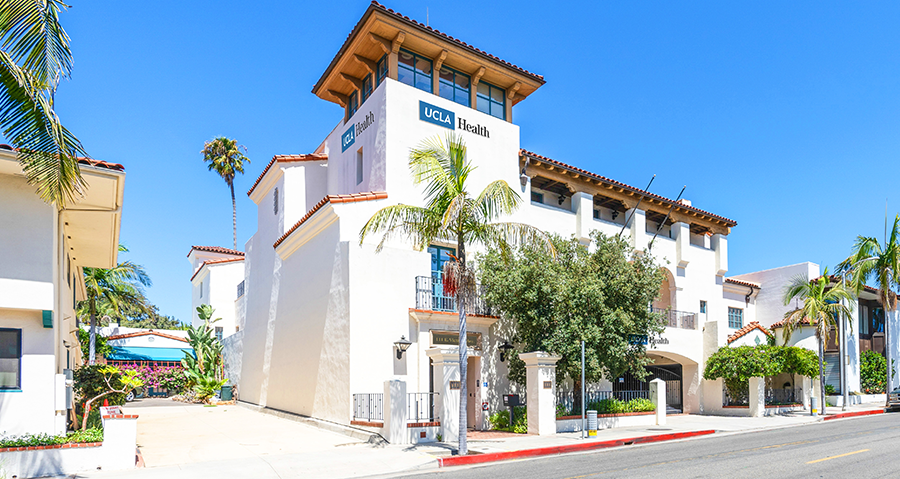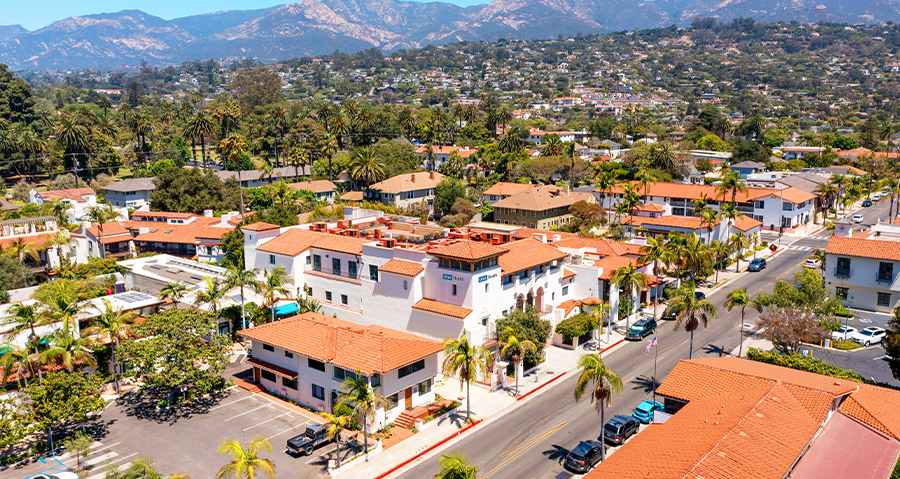 SANTA BARBARA OFFICE MARKET OUTLOOK
The Santa Barbara real estate market has continued to see strong quarters for commercial sales, as activity continues to rise. Properties located on State Street, trophy assets, and hotel sales are the three main trends from the past quarter. The demand for multifamily properties in the Santa Barbara market continues to thrive, with limited inventory in all asset classes. Increasing interest rates has not deterred investors in the market, as demand for investing in Santa Barbara has been and should always remain strong.
95 OFFICE SALES ANNUALLY (OVER PAST 5 YEARS)

$228M AVG. SALES VOLUME (OVER PAST 5 YEARS)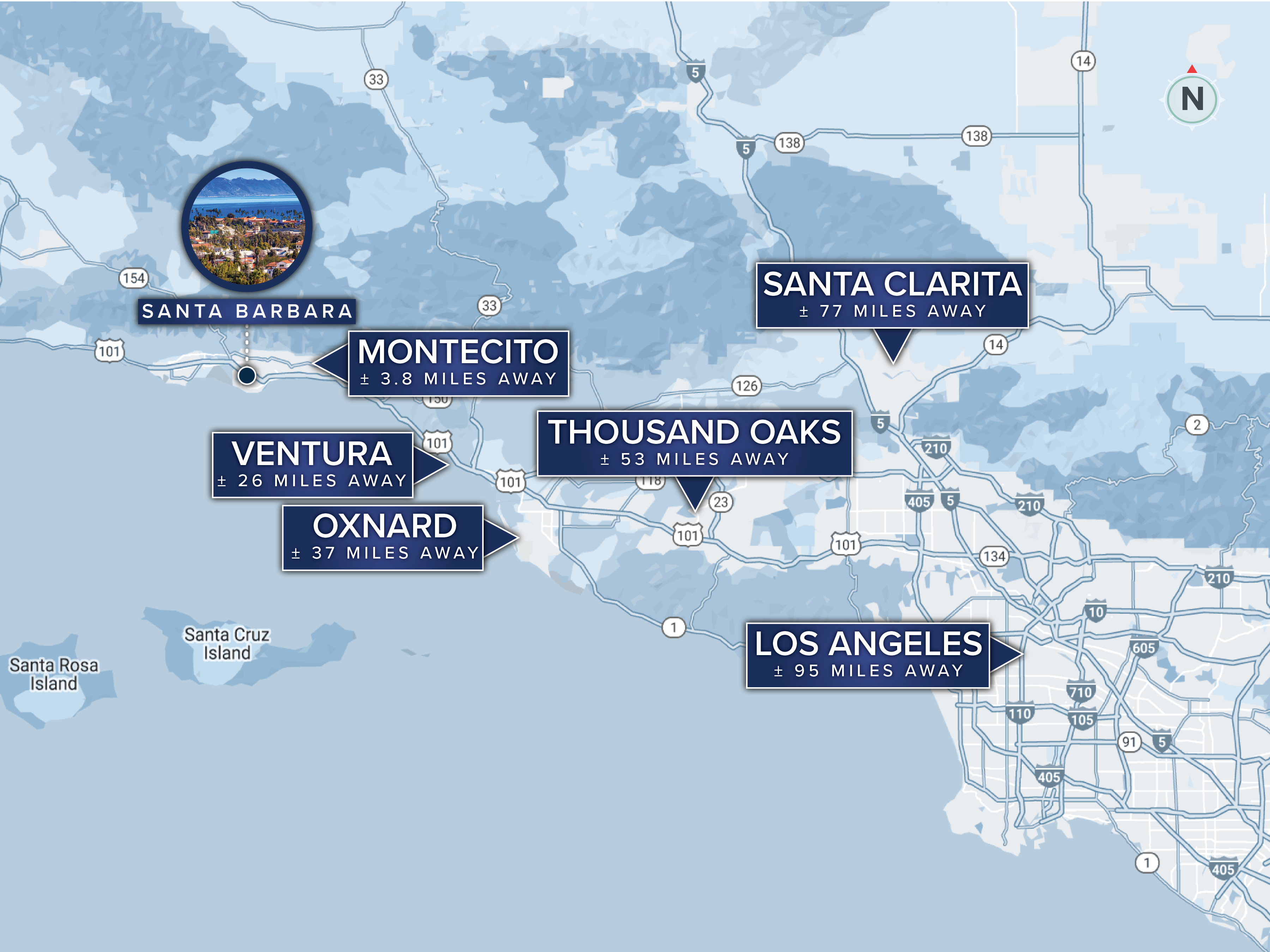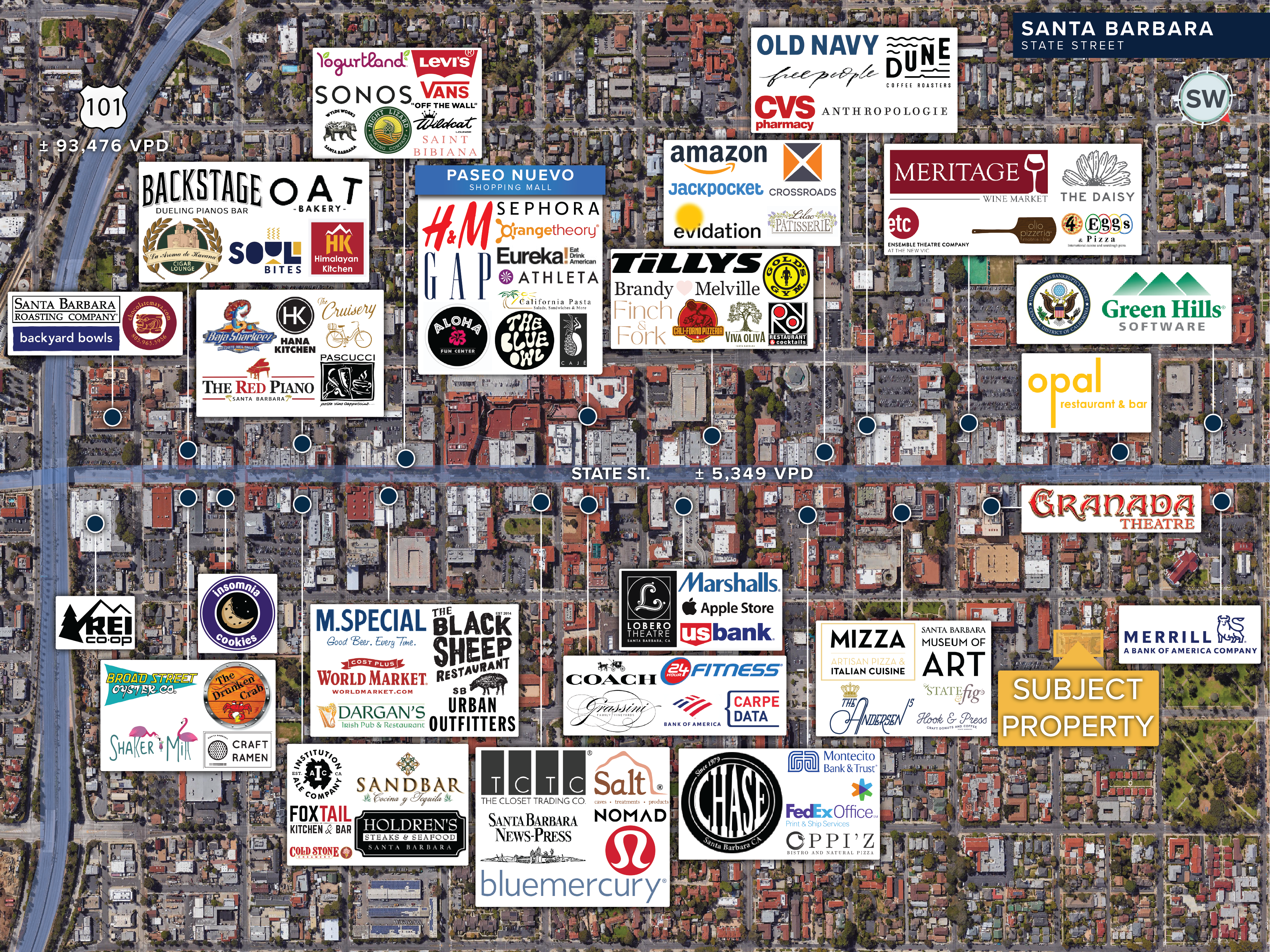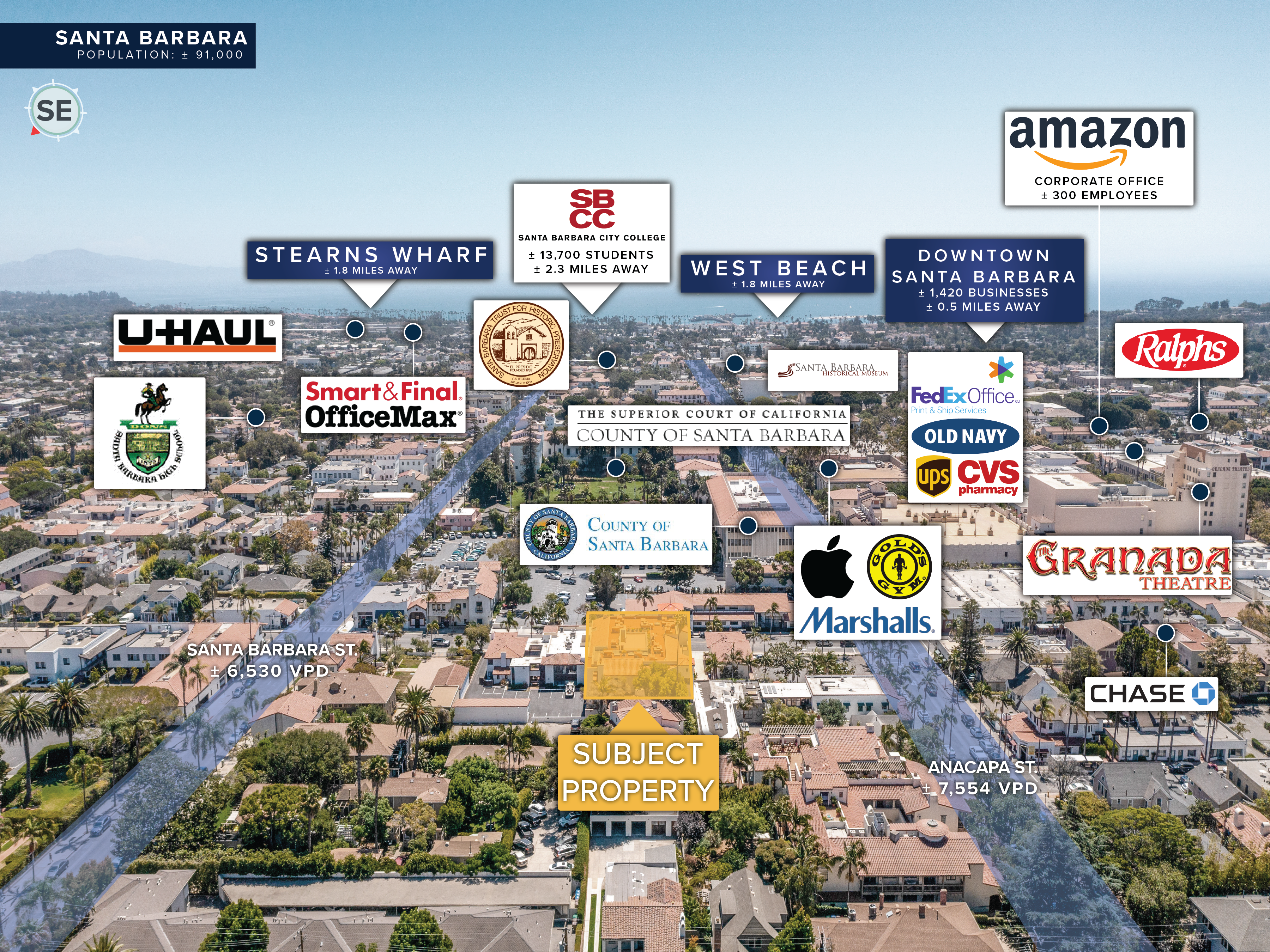 EXCLUSIVELY LISTED BY:
BROKER OF RECORD
David Harrington
License No. 02168060 (CA)